Custom Engineered Membrane Nitrogen Generators by NCA
National Compressed Air (NCA) designs and manufactures Custom Engineered Membrane Nitrogen Generation Packages for its clients in different sectors who need to produce their nitrogen on-site.  Applications include Production Drilling and Well Services, Pipeline Services, feeding Offshore Air/N2 Compressors, underground mine inertization and other industrial applications. We package nitrogen generation systems based on the specific needs of our customers' requirements for nitrogen volumes and purity. Units can be built as skid mounted, containerized or trailer mounted packages.
Membrane Nitrogen generators produce Nitrogen by the separation of air components and air moisture using batches of tiny, hollow polymer fibers contained in each membrane module via permeation process.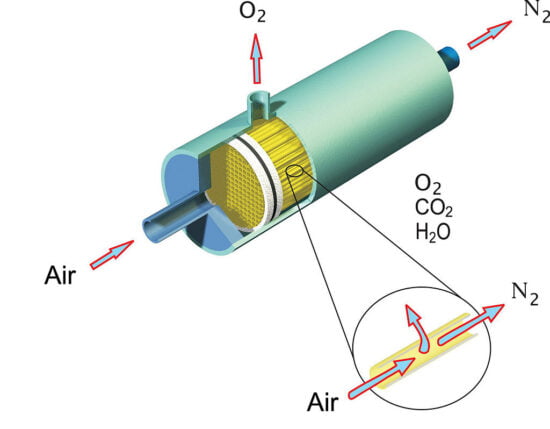 NCA Membrane Nitrogen Generators can provide purities of 95 to 99.9 percent. Membrane generators offer different advantages compared to PSA systems, including:
Simpler Design
Lower Maintenance 

and Service Costs

Much Lower Noise Levels 

Faster Start-up

Stable Nitrogen Flow and Pressure.
NCA high efficiency Air Compressors and Boosters with various drive options can be used on nitrogen packages. NCA Nitrogen Booster Compressors can be utilized for nitrogen injection at high pressure ranges.
For additional information on our models and specifications please contact our head office to speak with our sales representatives and experts about your requirements or request a quote.